Euphorion's professional blog
This blog section will have a closer look at my professional fields of interest.
By writing these blog entries I will try to learn more about the industries I'm interested in. The sectors described here are the fields of interest where I would like to work after my studies.
Don't hesitate to write any comments about my posts and opinions. You can choose any category one the left. I'm looking forward to reading about your ideas concerning the different topics!!!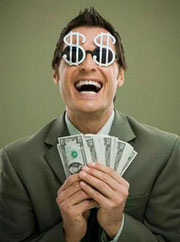 "The system of compensation almost surely contributed in an important way to the crisis"
This quotation by Joseph E. Stiglitz, one of the most famous living economists, shows one general attitude towards executive pay all over the world.
Generally speaking the public opinion is that the payment system of executives in big companies, especially in banks, strongly contributed to the worldwide financial and economic crisis. But do they just get too much money or is the idea of paying executives with shares of the company they are working in just a "rotten apple" like many financial experts already warned before.
The average citizen just complains about the dizzy height of executive pay today. Why do they get so much money and do they really deserve it?
These are questions we can discuss for hours and many experts already did it for us. For this reason I would like to try another approach to that very serious topic.
Read More
8 Comments