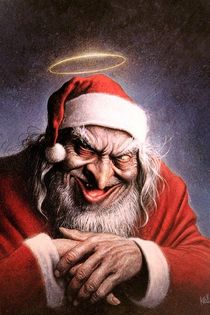 First of all I would like to thank Prof. Straub for this funny picture which inspired me to write this post.
Secondly I hope you all enjoy your Christmas vacations as I do here in Plau am See. It will take me an hour to upload this post thanks to the great internet connection here in the north east of Germany. But I also claim that Plau am See is the only place in "East Germany" without broadband internet connection. So obviously it is no general problem of "East Germany" (@Fabi ;-).
Nevertheless I'm sure that you'll all get FUNNY gifts today. I want to emphasize the word funny in this prediction. HUMOR surely is one of the greatest gifts nowadays. And the greatest thing is that HUMOR won't devalue.
And I will tell you the reason why there will be no devaluation of HUMOR.
I found this definition of devaluation on wikipedia.org (I know that we should not always trust in wikipedia, but it stays very useful @my teachers): "Devaluation is a reduction in value"... hmm but where does the VALUE of humor come from? I affirm that humor does not really have a VALUE in itself. Humor is humorous because funny people want to tell you a funny story. So there is a funny action that lies behind the action of giving a funny present to somebody. That's why you can't speculate in HUMOR. And if people can't speculate in HUMOR there won't be a DEVALUATION of HUMOR.
Please let me draw the conclusion, that the greatest present is HUMOR. So please give HUMOR to other people nowadays. Let's fight sadness on Christmas Eve!!! Just look at the picture on the top!
Merry Christmas and best wishes!!!
Yours truly,
Euphorion