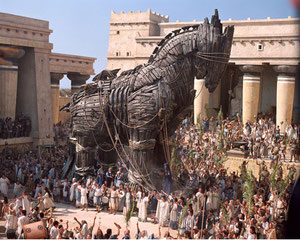 Everybody knows the Trojan Horse as the stroke of genius used by the Greek army to finally enter Troy during the Trojan War after 10 years of siege. 
Decisive battles nowadays happen with every passing moment. But it's not the ancient battleground. It's in our economy where we can watch battles between companies every day. The question here is: How can you win these battles for more customers?
In this article let's have a look at one of the latest and most impressive marketing strategies: the Trojan Horse Marketing. We will figure out how this new trend is used, what experts are thinking about that new strategy and how it can be abused.
What is Trojan Horse Marketing?
"When the Trojans saw the huge wooden horse, they brought it in. Why? Because they perceived it as a gift of some value."
This is what I found on a website called MindValley Labs where the authors discuss the latest online marketing tactics and strategies. They are selling reports and advice to other companies like a consultant company in that special field.
"The reality is, when people see a marketing message or a promotion, their walls go up further. Trojan Horse Marketing is defined as getting your promo message across, past the prospects' barriers which have been erected to block out those promotional messages to begin with."
 That's why you have to come up with an idea in order to get into the fortress named target group. And that certainly is not easy at all. Potential customers today are generally quite skeptical, but
"When they see your Trojan horse, they see it as a gift from heaven, and they bring that gift inside the barriers."
Who uses Trojan Horse Marketing and why?
Like its famous antecessor Viral and Guerilla Marketing Trojan Horse Marketing is more or less born out of necessity.
It's the necessity to get the message right to your target group but also the necessity of not spending too much money on expensive promotion campaigns. That's why Trojan Horse Marketing was invented and at the first moment used mostly by small and medium-sized enterprises.
Nowadays it's also used by big firms like Red Bull, Bosch and upcoming stars just like Bionade.
The most famous example of successful Trojan Horse Marketing is that the German company Kärcher - the world's largest manufacturer of pressure washers - cleaned the presidential faces on Mount Rushmore.
Another article I found on the web which analyses a new book about Trojan Marketing - published by the German authors R. Anlanger and W. Engel – pointed out that this marketing "campaign" was so successful because
"Kärcher placed with this action in the center of American national pride. And so in the middle of the hearts of Americans."
The abuse of Trojan Horse Marketing
After reading all these positive opinions about Trojan Horse Marketing I finally found an article named: "Beware of Trojan Horse Marketing" where the author underlines that Trojan Horse Marketing can also be abused in a very cruel manner.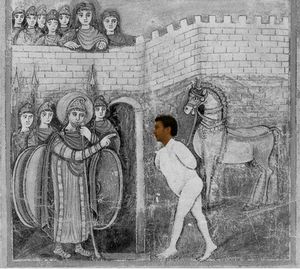 The author Dr. Crutchfield is medical director of Crutchfield Dermatology and mainly discusses the relation between patients and physicians.
He mentions for example a patient-retention program which is provided by company x to physicians in order to foster customer loyalty. In fact this company offers the physicians to send postcards to the patients as a small gift. Finally company x will use the contact dates which they got from the physicians to contact the patients directly. They try to sell their products directly to their "new" customers.
The author describes this strategy in the following way:
"I call this "Trojan horse marketing" because it looks like a gift but it turns out it can cost you your patients."
This example shows that all is not gold that glitters. Where there is success you will often find abuse.
Nevertheless Trojan Horse Marketing stays from my point of view on of the most innovative and most interesting marketing strategies which can be used to promote an existing product or to create new market.
What do you think about that new strategy?
Is Trojan Horse Marketing a "stroke of genius" or just an "illegal weapon"?
Related links: