Teamwork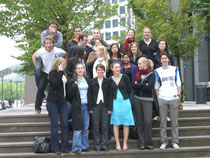 The importance of working together
During my studies at the Berlin School of Economics and the ESCE Paris teamwork has become more and more important.
Our teachers have always emphasized that the skill of working together in intercultural teams has to be one of our essential capacities today.
In this section you'll find some amazing examples of teamwork we accomplished during our studies.
Thanks to our professors just like Bruce Spear we get some teamwork tasks every week.
Please enjoy reading it and feel free to give some advice.