Welcome to Euphorion's world
First of all I would like to introduce myself. My name is Andreas Scheel and I'm currently studying International Management at the Berlin School of Economics and the École Supérieure du Commerce Extérieur in Paris.
Mr Bruce Spear inspired me during our English lessons to create this website.
Euphorion actually is my nickname on the internet. You will find some additional information about this nickname on the bottom of this page.
What's new???

I finally managed to put my Twitter updates on my homepage. Feel free to read my latest tweets below. My nickname on Twitter.com is "Sisyphos". I would be pleased if you follow me on Twitter. If you click on the birdie below you'll be directed to my Twitter Account.

Watch out my latest blog entry. It's about mythology, war and marketing. What a combination!!!
I'm looking forward to reading your comments.
Furthermore follow my thoughts on my Twitter page!
Twitter by Sisyphos
Loading Twitter messages...
Euphorion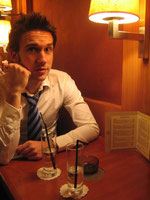 Actually Euphorion was the son of Helena and Faust in Goethe's masterpiece Faust I/II.
Goethe describes Euphorion as the interaction between the "beauty" of science and the determination of the human intellect. 
If you want to find out something about my connection to Euphorion read these pages and feel free to write comments.