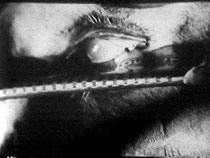 Since I promissed this post to Marlene I will now write a few sentences about Salvador Dali.
Dali for sure is one of my favourite artists and I would like to emphasize that he is an artist not only a painter. Following I will explain this opinion to you.
Actually the first masterpiece of Salvador Dali that impressed me a lot wasn't a painting. It was a dog! Do you know which masterpiece I'm talking about? It is "Le chien andalou", one of the greatest movies I ever saw. Moreover the history of that movie is quite interesting.
Once upon a time Salvador Dali described a crazy dream he
had had to his friend Luis Buñuel who was going to become a famous movie director at this time. Both decided to make a movie about that dream which was also inspired by another thing Luis Buñuel had dreamt of some weeks ago.
This movie is a milestone in the motion picture history. Dali tried to make a movie by avoiding any logical relation between the different sequences. The goal was not to have any logical connection within that movie. Both Buñuel and Dali wanted to stimulate the subconsciousness of human beings by showing the most surrealistic thing that humans have in their mind - DREAMS.
Maybe it would be great to watch out that movie in class.
Bruce, what do you think?